Huge Crowd of Scubadorable Fish Form Word 'DIVE'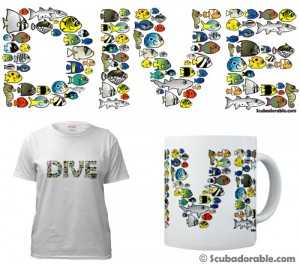 A huge crowd of totally cute Scubadorable fish swim together to make up the word DIVE in this brand-new Scubadorable design.
Fish included in the design are the Great Barracuda, Nurse Shark, Clownfish, Angelfish, Bannerfish, Parrotfish and many more.
The design is shown here on a t-shirt and a mug. The design can be purchased on apparel and other novelty gift items, or on virtually anything in Zazzle's product catalog here: Scubadorable DIVE on Any Zazzle Product.
This is a cool and detailed design for scuba divers that's fun to look at over and over. Can you ID all of the cartoon fish?
First published 11/04/2007; edited 3/26/2021